RECORDING STUDIOS - MOBILE RECORDING - VIDEO PRODUCTION - CD DUPLICATION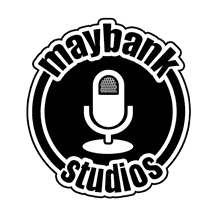 654 Eglinton St, Glasgow G5 9RP
Maybank Studios is a dedicated recording studio in the southside of Glasgow with over 1200 square feet of studio space. With 2 main recording rooms in addition to 2 isolation booths and a large control room, we can accommodate most recording projects.
Recording is to Protools HD 11, with 64 analogue ins and outs, including 16 channels of Prism sound conversion and 48 channels of SSL.
We also offer a mobile recording studio which is available throughout Scotland for those wishing to capture live events, or facilitate recording in acoustic spaces outwith the studio environment.
Alongside our mobile facility, we also offer multicamera HD video production for live events on our Blackmagic Production and BMPCC cameras
Studio equipment includes AMEK Classic large format console, Neve, Focusrite and Avalon mic pres, mics from Neumann, Gefell, AKG and Manley, Pearl Masters Series drumkit, vintage Hammond C3 and L100, and much more .